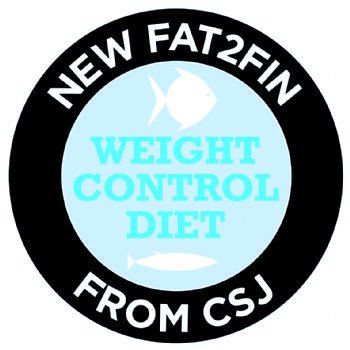 CP Fat2Fin
New CP Fat2Fin is a tasty feed that's rich in whitefish and rice
Price: £35.65 For a 12.5KG Bag

Rich in white fish and rice and including beneficial ingredients such as salmon oil, turmeric and natural antioxidants, CP Fat2Fin supports digestive health, aids healthy cholesterol levels and helps to satisfy hunger cravings.

Ideal for overweight or greedy dogs as well as dogs who love their food and put on weight a bit too easily. This low calorie recipe can be used as part of an effective weight loss plan. So, your dog is satisfied, but isn't getting heavier.

Feeding Guidelines

Use our CP Fat2Fin recipe dry or moisten it with water or CSJ Gravy Works! Always ensure that clean, fresh water is available.
Dog's ideal weight
Weight loss
Grams per day (g)
Maintenance
Grams per day (g)
2-10kg
50-170
60-195
10-20kg
170-280
195-325
20-30kg
280-380
325-440
30+kg
390+
450+
If a dog is overweight, you should feed according to its ideal weight and not current weight. All dogs are different and these guidelines should be adapted to take into account breed, age, temperament and activity level of the individual dog – as well as weather conditions. Please advise your customers that when changing food, please introduce CP Fat2Fin gradually over a period of two weeks.

Ingredients: Rice, White Fish Meal (min 18%), Whole Oats, Whole Barley, Potato, Sweet Potato, Unmolassed Beet Pulp, Duck Meal, Yeast (source of manan oligosaccharides), Lucerne, Peas, Salmon Oil, Activated Charcoal, Minerals, Carrot, Seaweed, Parsley, Cinnamon, Turmeric, Devil's Claw Root, Blackcurrant, Kale, Spinach, Yucca Schidigera, Beetroot, Rosemary, Rosehip, Pomegranate
Features and benefits
Rich in white fish (min 18%) with oats, sweet potato & vegetables (min 4% vegetables)
Quality protein to help support coat, skin, immune function and lean tissue mass.
Reduced energy, to help manage body weight
Lower feed rates, but with increased trace nutrients to ensure meeting optimal nutritional needs
Joint support from added omega 3 (from salmon oil), turmeric and devils claw root
Natural antioxidants package: Carnitine to help fat utilisation in order to help control body weight MOS, functional fibres and the antioxidants all help support immune function
Palatability enhanced, with some great tasting ingredients
Whole oats reported to help manage cholesterol levels in dogs
B-vitamins, parsley, seaweed, chelated zinc for coat condition
Functional fibre and yucca shidigera to help maintain faecal quality
Functional fibre and added tryptophan to help maintain that satisfied, full feeling
A fitter dog is a happier dog, with more bounce, stamina and energy.